Out of Bounds
Weekdays · 12:00pm to 3:00pm
About Out of Bounds

Out of Bounds is a fast paced show that covers all things sports both locally and nationally. Of course, Qualk and Ben talk all things Clemson, specifically, football, basketball and baseball. However, Out of Bounds also hits on current events outside of the Upstate, detailing the latest happenings in the NBA, NFL, MLB and collegiate sports around the country.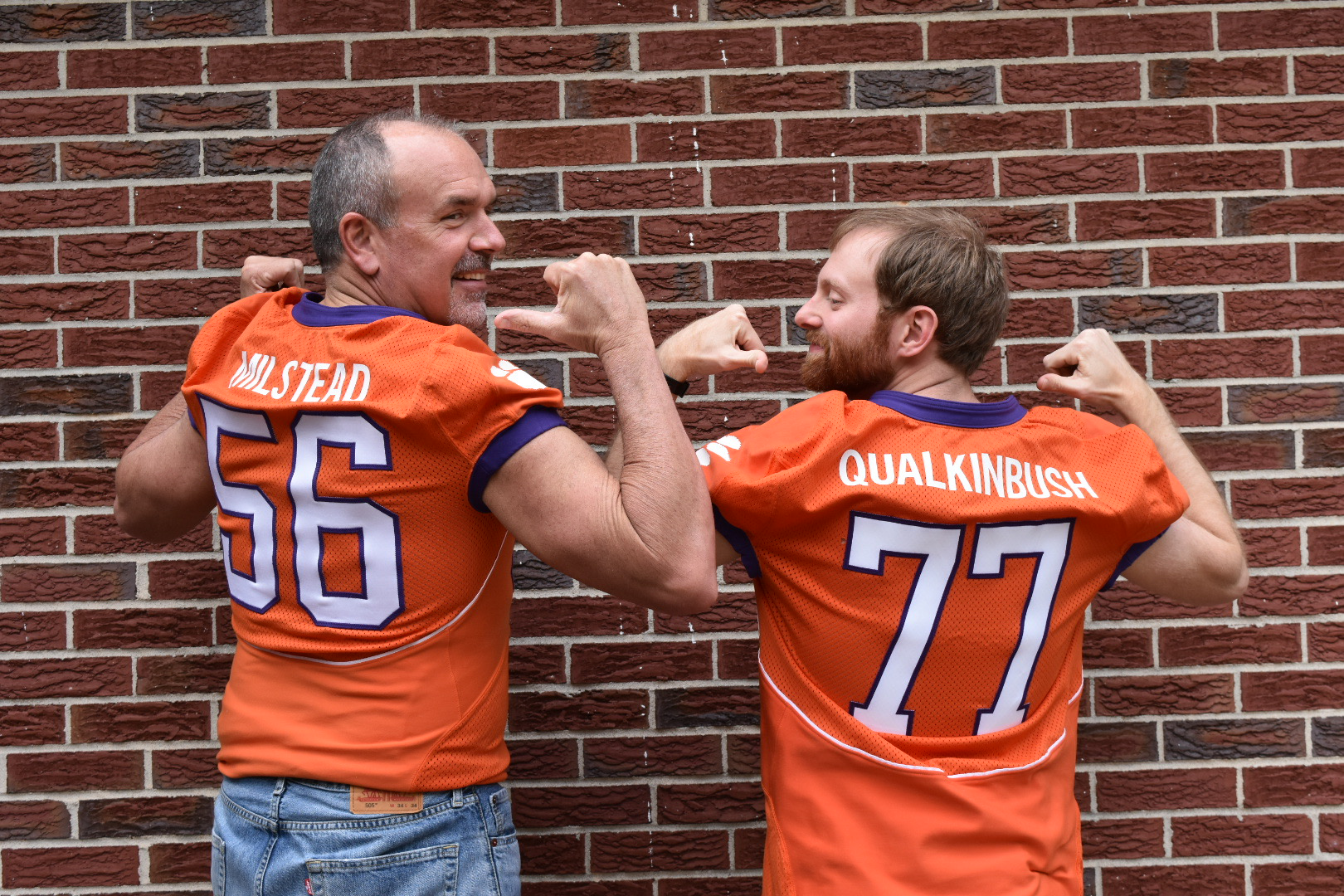 William Qualkinbush
William Qualkinbush brings a youthful and enthusiastic presence to The Roar as the host Out of Bounds. Qualkinbush, or "Qualk", has been broadcasting on WCCP since June 2011, when he got his start co-hosting and producing the Mickey Plyler Show and hosting his own show, Qualk Talk, on Saturday mornings from 10 AM- 12N. He took over the reins of Out of Bounds as the show's full-time host in February 2014. During football season, Qualk co-hosts the Tiger Pregame Show on The Roar with Scott Rhymer. The Tiger Pregame Show airs six hours prior to every Clemson football game.
In addition to his sports talk radio work at the station, Qualk has worked in a variety of different sports-related fields, all with a Clemson focus or connection. He spent four years as a student assistant, and then a graduate assistant in the Clemson University Sports Information Department. He also spent his college years serving as a freelance writer, most frequently for the Daily Journal in Seneca and IPTAY Media, covering everything from youth and high school sports to the College World Series. Earlier in his college career, Qualk was a contributor for Bleacher Report and hosted his own sports radio program on the Clemson University campus station, WSBF.
Qualk also serves as the play-by-play voice for Clemson baseball and Clemson women's basketball as well as the High School Football Game of the Week on The Roar. Qualk has experience as a public address announcer for the Clemson baseball team as well as Clemson volleyball, women's basketball, track and field, men's and women's soccer and men's and women's tennis.
Qualk has deep roots within the Clemson community as a lifetime native of the upstate. He has served part-time as a worship and youth leader at Central First Baptist Church, where his father is the senior pastor. His parents are avid Clemson supporters and IPTAY donors who made sure he attended every home football game during his youth. Qualk is a graduate of nearby Daniel High School, where his mother teaches math, and a two-time graduate of Clemson University (Bachelor's degree- 2010 and Master's degree- 2013).
You can follow Qualk on Twitter at @QualkTalk
Ben Milstead
Ben joins OOB after a few years on The Press Box and before that as the producer and co-host of The Roy Philpott Show on the The ROAR airwaves. Ben is involved in many aspects of Clemson Athletics and currently works as the on-site producer of Clemson football and men's basketball radio broadcasts. Ben has over 20 years of experience in the radio industry.
While he is vital as a producer on OOB, Ben is also the Director of Operations at The ROAR. He ensures the station runs smoothly day in and day out.
You can follow Ben on Twitter at @benmilstead
Recent Podcasts
11/27/23 Hour 3· Out of Bounds
· 11/27
Reaction Monday Continues
11/27/23 Hour 2· Out of Bounds
· 11/27
Reaction Monday Continues
11/27/23 Hour 1· Out of Bounds
· 11/27
Reaction Monday
11/24/23 Hour 3· Out of Bounds
· 11/24
Hater Hotline!!
11/24/23 Hour 2· Out of Bounds
· 11/24
Breaking down games
11/24/23 hour 1· Out of Bounds
· 11/24
Clemson/ Carolina. Brett Friedlander
11/22/23 Hour 1· Out of Bounds
· 11/22
Don Munson filling in for Qualk
11/22/23 Hour 3· Out of Bounds
· 11/22
Don Munson filling in for Don Munson
11/21/23 Hour 1· Out of Bounds
· 11/21
Tiger Tuesday with CU AD Graham Neff & JR RB #7 Phil Mafah
11/21/23 Hour 2· Out of Bounds
· 11/21
Tiger Tuesday with FR DT #11 Peter Woods plus thoughts on the presser with Dabo Swinney & Graham Neff