By John Falduto
CLEMSON - Clemson football held its annual Pro Day at the Allen N. Reeves Football Complex on Tuesday morning. 14 different draft-eligible players performed drills and were interviewed with representatives from all 32 NFL teams, as well as about half of the teams in the Canadian Football League.
Notable attendees included Pittsburgh Steelers Head Coach Mike Tomlin and General Manager Omar Khan, Carolina Panthers General Manager Scott Fitterer, and New York Giants Defensive Coordinator Wink Martindale.
Biggest Winners of the Day
1. Trenton Simpson
Following one of the standout performances among all position players at the NFL Combine, Trenton Simpson continued to impress scouts with his athleticism on Tuesday morning. He recorded a personal-best 40.5-inch vertical jump, which would have been the highest among linebackers at the Combine by two inches.
Simpson elected not to run the 40-yard dash after posting the second-highest among linebackers at the Combine (4.43 seconds), but he did participate in several on-field position drills led by NFL assistants and position coaches in attendance.
Simpson is the No. 1 ranked inside linebacker according to ESPN's Draft Big Board, and the No. 48 overall prospect.
2. Bryan Bresee
DT Bryan Bresee recorded 28 reps on the bench press, up from his 22 reps at the NFL Combine a few weeks ago. His new number would have placed him fourth among defensive tackles.
He continued to look as quick and healthy as he has in months, performing exceptionally well in several on-field speed and agility drills. Bresee ranks as the second-highest DT and the No. 28 overall prospect on ESPN's Draft Big Board.
3. B.T. Potter
B.T. Potter took full advantage of the opportunity to kick in front of NFL scouts, going perfect from field goals inside the 50-yard line and hitting a 55-yarder straight down the middle of the uprights.
Potter is one of the prolific kickers in Clemson and ACC football history and is widely regarded as one of the top placekicker prospects in this year's NFL Draft.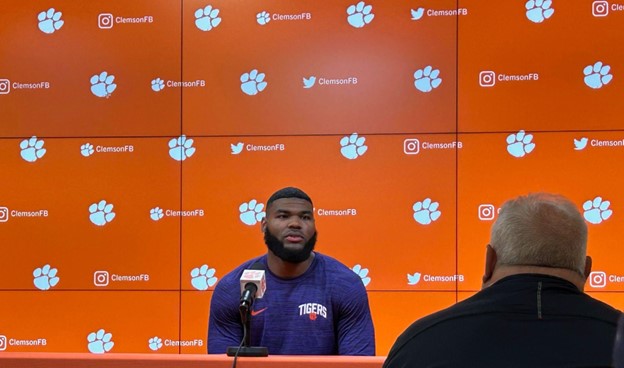 Players Meet with NFL Teams
Trenton Simpson: Trenton Simpson had 19 formal interviews with teams at the NFL Combine, and talked with the Giants, Titans, and Steelers at his Pro Day on Tuesday. He also met with the Steelers for dinner on Monday night. He will be in Houston on Wednesday to meet with the Texans and is expected to have several other meetings with teams before the Draft.
Myles Murphy: Myles Murphy said he met with the Steelers, Ravens, and Patriots on Monday night, and talked with the Giants D-Line coach Andre Patterson a lot on Tuesday at Clemson's Pro Day. He has a meeting with the Saints lined up before the draft and expects several more over the next few weeks.
K.J. Henry: K.J. Henry said that he's "talking to everybody," but specifically mentioned the 49ers and Giants as teams he talked with the most at Clemson's Pro Day on Tuesday.
B.T. Potter: BT Potter said he has talked the most with the Jaguars, Rams, Vikings, and Steelers so far, and has a few private workouts scheduled with a number of teams before the Draft in April.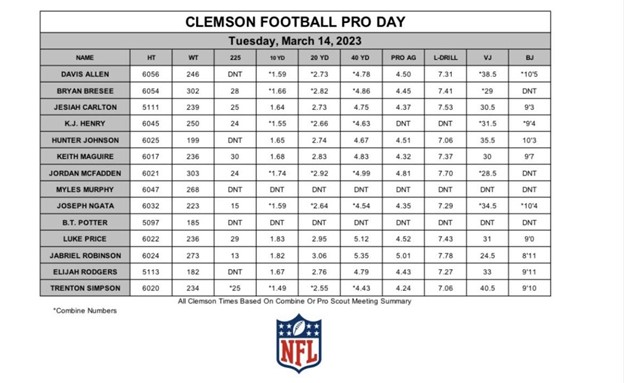 Myles Murphy Update
DE Myles Murphy remained sidelined at Tuesday's Pro Day with a hamstring injury he suffered the night before defensive linemen were set to workout at the NFL Combine earlier this month while working on 10-yard starts.
He will hold a separate workout for NFL teams in April alongside DE KJ Henry. Murphy is the third-ranked DE and 17th-ranked overall prospect in the draft according to ESPN's Big Board.